About Darlene Bishop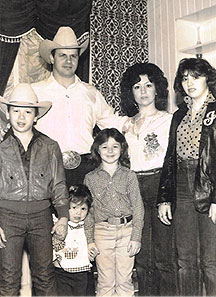 Darlene Bishop made a commitment to Christ at fourteen years of age. At that time she felt the call of God on her life and at seventeen she married her sweetheart, Lawrence Bishop. When they married, Lawrence was a very spiritual young man and Darlene thought someday he would become a preacher and she would be a preachers wife.
But not long after they married, Lawrence became consumed by his quarter horse business and began to be very successful. Soon, church took a back seat to business and Darlene found herself just taking her children to church. Being that Darlene was raised so poor, with business booming, she began to try to fill the void inside of her with shopping. As she has told many times, she bought 2 Cadillacs and 18 fur coats (one for each member of her family) in one year. Finally, one day she came in from a shopping excursion and as she pulled out all the dresses to show her eldest daughter, Jana pointed to one and stated, "Mom you already have that dress." Sure of herself, she replied, "Oh, no I don't." So Jana led her upstairs to her closet and dug the dress out from the collection of many only for Darlene to find that in fact she did already have one of the dresses hanging there with the tags still attached. At this, she realized it was not working. The big house, the diamonds, fur coats, collections of designer clothes, none it was filling the emptiness residing in her inner most being. She threw herself on the floor sobbing and declared, "Lord, I want more of you! I don't care what Lawrence is doing I just want you. And I'm going to seek you until I find my true place in the kingdom." From then on, instead of going shopping Darlene would delve into the Word of God.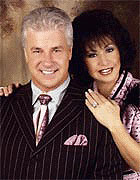 While Lawrence was away at horse sales, she would lock herself in the bedroom on weekends to study. She just couldn't get enough of God. Before long, the Lord started giving her sermons. She would feverously right them down and preach to her only audience, the grand father clock at the foot of her staircase. In the beginning she would fuss at Lawrence for being out of town all the time on business, never being home to go to church with them. Of course he insisted he was doing all this for her and the kids. Eventually, she realized that complaining all the time was not going to get him to change but she knew what would. It had become her life; PRAYER. As she began to intercede for Lawrence, it didn't take long before he had a "Demascus Road" experience and rightfully took his place as the hight priest of their home. They began working in the church together and although Lawrence never aspired to be, he eventually became the Pastor of their little church. It wasn't long after, that Darlene began preaching those sermons God had given her and her audience expanded to more than that grand father clock. That little church has grown into what is now known as the dynamic, multi-cultural Solid Rock Church.
Besides sharing the pastoral duties of Solid Rock Church with her husband, Darlene travels nearly every week across the nation and abroad preaching the gospel. She is a nationally known conference speaker with a powerful testimony.Several years ago, God gave Darlene a vision to build a residential home for teenage, unwed mothers as an alternative to abortion. After many court battles, Solid Rock Church was awarded the rights to build the Darlene Bishop Home for Life where now many lives of young girls are being transformed.
If you don't see her in person at Solid Rock Church in Monroe, Ohio or somewhere at a conference you can now catch her on the fresh, new, fun talk show, "Sisters", along with her daughter, Jana Mitten, the great gospel singer Shirley Murdock and friend, Arlene Parker. The "Sisters" air weekly on BET, the Church Channel, Daystar and the Word Network.
Your faith will soar as you hear the life changing preaching of this dynamic vessel of God!
About Darlene Bishop Ministries
Darlene Bishop Ministries is an outreach of Solid Rock Church, in Monroe, Ohio, where Darlene shares pastoral duties with her husband, Lawrence Bishop. Darlene began preaching in 1984 at local women's meetings and in her home church, but her ministry began to expand nationally in 1998. Darlene Bishop Ministries is now traveling full time and can be seen all over the world through the weekly television broadcast, Sisters. This ministry was established to reach the lost, the broken, and the hurting – to reveal that victory can be obtained every time, if you only BELIEVE.
The compassion Darlene has is shown through the various ministries that she has founded and supports, such as the Home for Life and the Brazilian Orphanage. Darlene Bishop Ministries is spreading the gospel across the nation and around the world.
If you would like to help us in our endeavor to change lives, please consider becoming a Sisters Partner.
Darlene Bishop Testimony
In September of 1985 an evangelist called me out of a crowd of about 300 people. She asked me, "Honey, are you a preacher?" and I said, "Yes, Ma'am, I am." At this point in my life I had only preached to about 50-100 people, mostly women at Women's Aglow meetings and things of that nature. She exclaimed, "My God! God just gave me a vision and I don't even know how to describe it." Teetering at the edge of the platform, peering through tightly squinted eyes she continued "I see you standing on the biggest platform I've ever seen in my life, I can't imagine where this could be, but I see you standing there preaching to the largest crowd I've ever seen. I don't even know how to describe it. All I can say is that it looks like an ocean of people. God told me to tell you to hold on to this and it will bring you through." Little did I know that in just a few months, in March of 1986, that the devil would attack my body.
I had been preaching on faith for six weeks, when one night while laying in the bed the devil said to me, "If you don't stop preaching like this, I'll kill you" and without hesitation, I replied, "You're not big enough, devil". He said, "Feel your right breast". When I felt my breast, I felt a lump the size of a silver dollar. Well, the faith that I had been preaching about for six weeks, took wings and left me. I mean, I couldn't quote a scripture or pray a prayer, it just left me. I didn't come out of my bedroom for three days. Concerned about me, my son came in and asked what was wrong. I refused to tell him but said that the devil had attacked my body and I wasn't coming out of my room until God healed me.
He said, "Mom, you've been preaching on faith for six weeks. Do you believe what you've preached or was it just empty words?" I sobbed, "No honey, I believe it." He answered, "Well then, get up out of this room and start practicing what you've been preaching! God's not finished with you yet." After he rebuked me and left the room, I stood up and declared to the devil, "Satan! Get out your little black book. I'm going to show you that the same Word of God that I've been preaching is going to heal me and nothing else!" Well, I thought for sure that I'd be healed in just a couple of days. But instead, I grew worse. Soon, the whole bottom half of my breast became a solid mass. The pain would be so bad some nights that I could only sleep a few minutes at a time. It was as if someone had put hot coals of fire in my breast. For pain medicine, I would write down scriptures on little pieces of paper and place them in my bra. The devil would torment me at night and say things like, "You'll be dead by Christmas, and somebody else is going to raise your children." When he would come to me with his lies, I would pull out one of those scriptures and say, "Oh, no you don't devil! It is written, 'I will not die, but I'll live to declare the works of the Lord! There's an ocean of people somewhere I've got to preach to and you can't take me out until God's done with me!" This went on for nearly four months until eventually my breast began to hemorrhage. I had to put nursing pads in my bra to prevent the blood from coming through on my clothes. Some nights I would bleed all night and wake up with my gown and bed sheets covered in blood. Until one day, on July 21, 1986, I was in my bathroom washing the blood out of my gown where I had bled all night.
As I was hunched over the sink, my tears splashing into the bloody water, I said, "God, if this breast rots and falls off into this water, as long as there's breath in my body, I'll still preach that you're Jehovah Raphe." For the first time and only time in my life, I heard Him speak my name in an audible voice. He said, "Darlene!" I rose up and cried, "Yes Lord?" He said, "Because you've continued in my Word and not leaned on the arm of the flesh, as of this day you're healed. Go! Proclaim it!" That was almost 20 years ago, and I've done just that.
In 1998, I was invited by Bishop TD Jakes to speak at his "Woman Thou Art Loosed" conference. As Bishop Jakes was about to introduce me to the 89,000 women crammed into the Atlanta Dome, I looked over the crowd and whispered, "My Lord, God, how did you ever get me here?" As I scanned the crowd, he brought back the words of that little evangelist, to me. The only way I could describe the setting was to say that it looked like an ocean of people and God whispered in my spiret, "Didn't I tell you I was going to bring you here?"
You see, if God had told me, "You're going to be attacked in your body for five months then I'm going to heal you so that you can pray for other women to be healed of breast cancer", I would have said, "All right, come on!" But that's not how God does it. When God gives you a vision, he gives you just a little picture, like a preview of a movie, which is usually the best part. When God gave Joseph a vision of his brothers bowing down to him, He didn't show him the pit or the prison. And that's the same way it is in our lives. God gives us just a little preview of what He's going to do and we have to hold on to that until we get there. There will always be obstacles in our way to hinder us from fulfilling the purpose God has established for us. The Bible says in 1 Peter 4:12, "Think it not strange concerning the fiery trial which is to try you as though some strange thing happened unto you." My test became a testimony that has taken me around the world and given me the opportunity to pray for thousands of women who have since been healed.
Mission Work of DBM
As we have been commissioned, we here at Darlene Bishop Ministries are committed to taking the gospel around the world. The primary Mission Work of DBM focuses on two major efforts: The Darlene Bishop Home for Life and the Solid Rock Orphanage of Brazil.
Darlene Bishop Home for Life
The mission of the Darlene Bishop Home for Life is to minister to the needs of teen girls and to encourage positive choices within an atmosphere of hope and healing. The Home for Life provides shelter, food, life skills preparation, academic achievement, job readiness, thereby equipping each girl with the necessary tools to lead productive lives within their communities.
To watch a wonderful and inspiring video documenting the girls at the Darlene Bishop Home for Life, please click here
Please click here for more information – this link will take you to http://www.DBHL.org which is the official website for the Darlene Bishop Home for Life.
Solid Rock Orphanage of Brazil
There are about 8 million meninos da rua (street children) with no place to call home in Brazil. About 1,000 of them die each day from hunger and malnutrition- but that is not all the're up against.
Click here to read more on the Brazil Orphans.